S
o another growing season begins.
First frost last fall was Oct 11, 2016, 5 days earlier than 2015 but still better than Sept 19, 2014. Last frost still to be determined. Looking like -1C this upcoming Monday and Tuesday! Just hope not like last year which was May 17, 2016 or even worse, May 23, 2015!
The winter was very long again this year. First snow was Oct 27, 2016 and last snow was April 1, 2017. This is 156 days, more than 5 months with a total snowfall of 309 cm (over 10 FEET!). Minimum temperature was only -30C and seeing as we did not get many warm spells we finished winter with nearly 5-6 feet of snow on the ground when the melt came which means all trees and shrubs survived. However, this large snow accumulation brought new problems this year because it would snow, then if it warmed or had ice rain it would form a sheet of ice that would attach to low scaffolds and then when the snowpack would settle it would rip the branches off the tree. From now on I will ensure all scaffolds start at least 3 feet off the ground.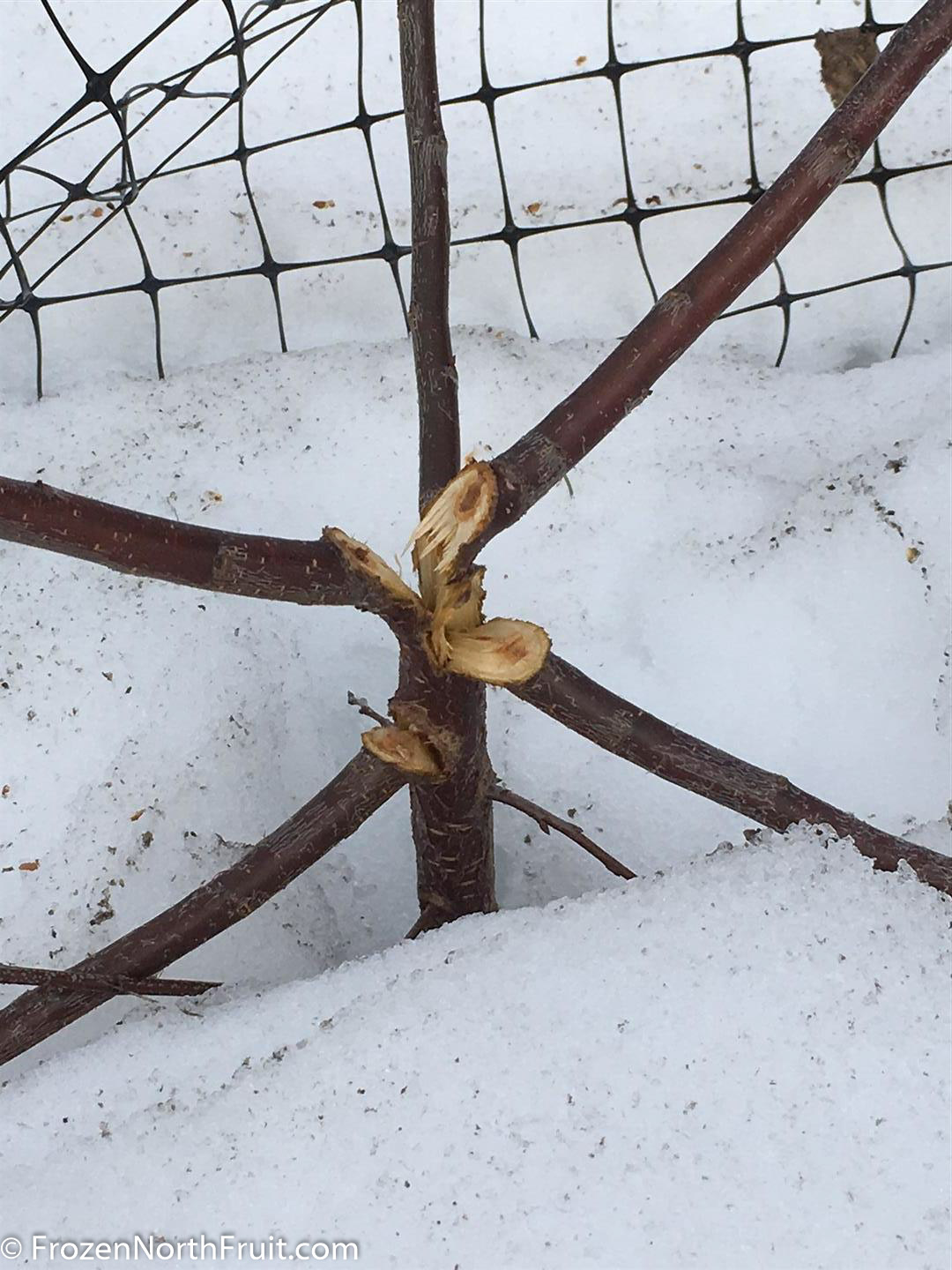 Final melt was April 11-12 which was 2 weeks later than 2016 (near full melt April 1, 2016 but then 1 foot snow April 9 with final melt April 12-13, 2016.
Crocuses started flowering April 15 which was 2-3 days later than 2016.
One thing different this spring is the amount of rain. April had 147mm of rain, nearly 6 inches! By May 7 we are anticipated to have over 100mm of rain (4 inches) in the first week of May! I have a great deal of standing water around so I guess I am going to see truly how collar rot resistant my trees are. While they are in raised mounds, by now 90% of the roots are probably deep enough to be swimming.
I also had more vole damage than in previous years. I had protected all my regular trees but have not protected my bushes. This year I have discovered that voles like Gooseberries and they also found some 1 year old rootstocks I grafted but forgot to protect/paint. I will know better for next year. So far I have ZERO damage to plants protected with a mixture of latex paint, joint compound and water in a 1:1:1 ratio that is painted onto trunks and lower scaffolds in the late fall. No evidence of south/west injury either.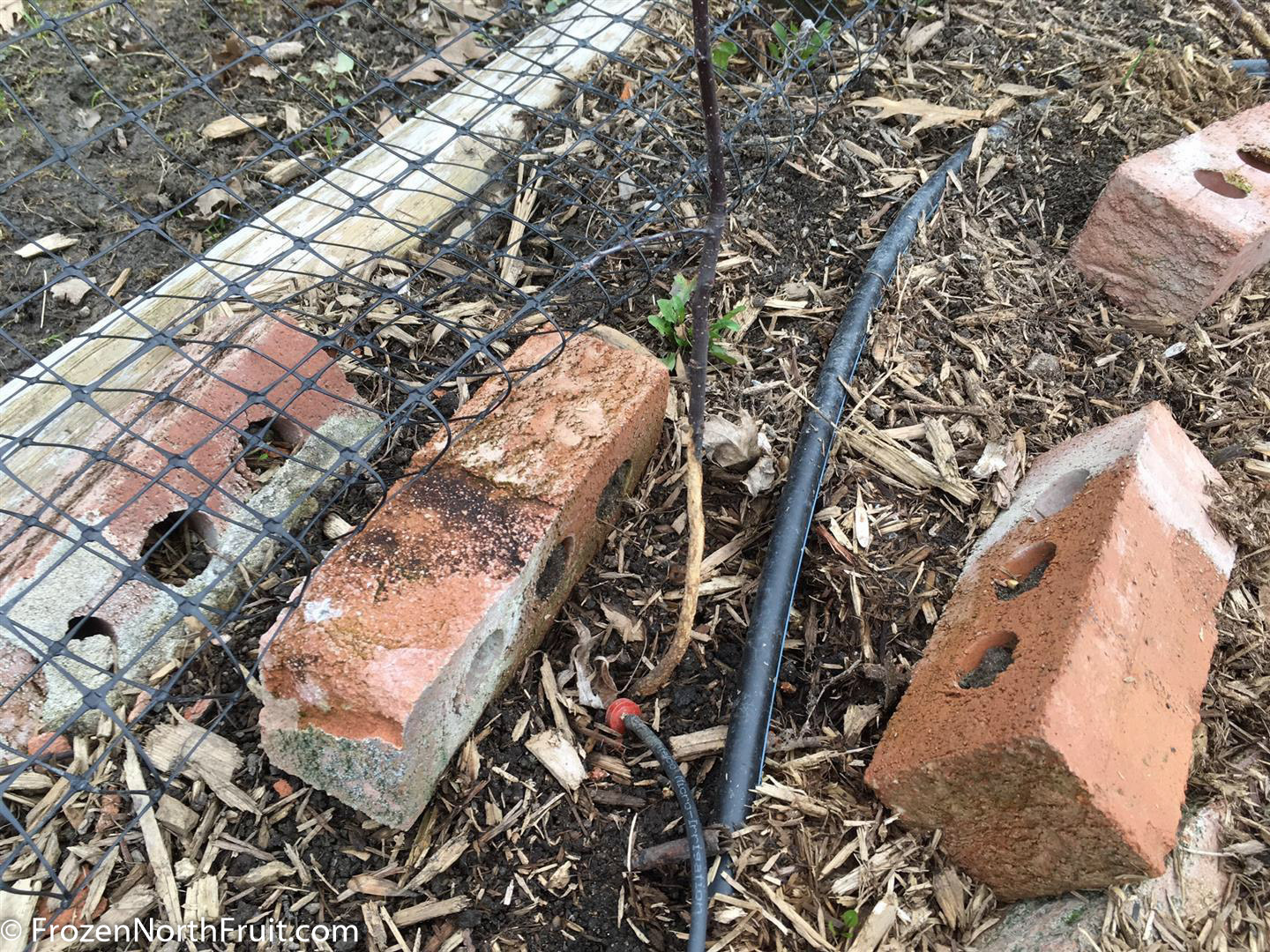 2017 Plant additions
Apples
Carroll
Chestnut
Scarlet O'Hara
Summer Red – found apple
Sweet 16
Trailman
Yellow Reinette – found apple
Apples (zone 2)
Altari mountain – applecrab
Amber – applecrab
September Ruby
Sunnybrook
Redstar (perhaps Red Mike)
Euro pears
Beedle
Golden spice
Harrow Sweet
Harvest Queen
Julienne
Krasnobokaya
Krazulya
Lucious
Patten
Dome – found pear
Vekovaya
Asian pears
Kikusui (or seedling of Kikusui)
Olympic
You China
Plums
Alderman
Brook Gold
Brook Red
Damson white
Green Gage
Gypsy Chum
La Crescent
Mirabelle
Opal
Petite de la Sour Mont Royal
Red star
Sinikka
Skiba
Sprouts Sunshine
Apricots
Riley apricot
Riley seedling apricot
Westcot apricot
Debbies Gold
Peach
Harrow Diamond
Vulcan
Chinese
Grapes
Brianna
Canadice
Einset
Himrod
Kay Gray
Montreal Blue
Prairie Star
Roland
Skookum
Swenson white
Trollhaugen
Persimmon
Seedlings
Haskasp
Boreal Blizard
Boreal Beauty
Mulberry
Illinois Everbearing